Michael W. Parks, DVM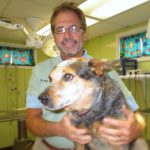 Dr. Parks graduated in 1984 from the Virginia-Maryland Regional College of Veterinary Medicine at Virginia Tech. He says that the devotion his own pets gave him and their need to be cared for inspired him to become a veterinarian. While his love for animals is evident in the compassionate care he provides for his patients, he likes the personal relationship he has with his clients. Dr. Parks feels most at home in OR because he likes working with his hands and seeing the immediate gratification of seeing his patients improve post surgically. He and his wife Gina have two horses, Belle and Fin, and two dogs, Clarence a chihuahua and Pandora, a Maltese. In his free time, he enjoys boating, travel, and his grand-kids.
Chris H. Runde, DVM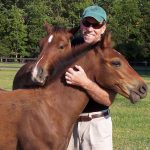 Dr. Runde graduated from the Virginia-Maryland Regional College of Veterinary Medicine in 1985. His interests are broad, but he has always enjoyed the challenges of equine medicine. More recently, he has taken an interest in treating cancer in small animals. "Cancer can be so hard on the owners and their pets. We see so much of it, much more than I ever thought we would. It's very gratifying to help people and their pets through this and see some positive results." Dr. Runde and his family live on Briarpatch farm in Mechanicsville with seven horses, five dogs, four cats and an assortment of pheasants. "We all love the outdoors. My wife Karen and my daughter Kristina enjoy riding and foxhunting. My son Brendan and I love fishing on the bay and watching wildlife on our farm."
Charles L. Benedict, DVM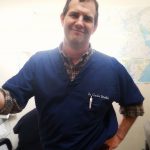 Dr. Benedict graduated from the Virginia-Maryland Regional College of Veterinary Medicine in 1994. He had wanted to become a veterinarian for as long as he could remember. His patients are dogs, cats, horses, and farm animals. He enjoys providing their healthcare and meeting their owners. He is especially interested in opthalmology.  He, his wife Angie, and son Adam share their home with two dogs, Jigsy, and Spencer, and three cats, Squishy, Gary, and Marcie. When not helping animals, he enjoys golfing, fishing, and football.
Rania V. Lisas, DVM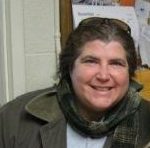 Dr. Lisas graduated from the Virginia-Maryland Regional College of Veterinary Medicine in 2000. She has always had animals in her life, and as a teenager rode around the Northern Virginia countryside on farm calls with Dr. Herbert Howard.  Her most memorable veterinary experience was helping a dog, Sadie, recover from a HBT (hit by train). Sadie recovered and now runs, jumps, and plays with no sign of injury, except the lack of her tail.  Dr. Lisas enjoys reading, writing, painting, riding, and hiking.  She shares her home with a rescue dog, Bodie.
Jennifer A. Tacia, DVM
Dr. Tacia graduated from Michigan State University in 2002.  Her desire to become part of a respected profession, while being able to help people and animals led her to become a veterinarian. She especially enjoys surgery and the challenges of equine lameness. While she was still in vet school, she was especially moved assisting in surgery during an equine caesarian section in which both the mare and the foal were saved. (Equine C-sections are extremely rare, and often the death of the mare, the foal, or both occurs).  Dr. Tacia moved to southern Maryland from Michigan in July of 2002. She says she has appreciated the wonderful welcome she has received from the community and members of the Tidewater staff. When not working with animals, she enjoys spending time on the River with her husband Shawn and their dog Pepper and cat Butter.
Daniel R. Schultz, BVMS​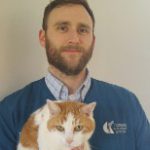 Dr. Schultz graduated from the Royal (Dick) School of Veterinary Studies at the University of Edinburgh in Scotland, UK.  He has always had an interest in animals, whether it was catching frogs in the creek or doing a lot of research to convince his dad to let him get pet rats.  His interest in veterinary medicine grew while watching the TV program "Emergency Vets" with his mom.  He had more of a small animal background growing up, but at vet school he gained a passion for working with horses and farm animals as well.  In his free time, he likes to read, go fishing on the Bay, or try to play some tennis or lacrosse.
Paul E. Repenning, DVM, MS​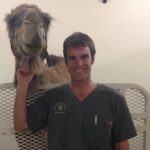 Dr. Repenning, a native of Southern Maryland, completed his higher education at Colorado State University. Growing up on Cremona Farm, the Tidewater veterinarians inspired him to pursue the long path of becoming a veterinarian. Before veterinary school, Dr. Repenning earned his M.S. degree in Animal Sciences studying bovine reproductive physiology and welfare. In veterinary school, he was very involved in large animal medicine and surgery, and running his own farrier business. Dr. Repenning's professional interests are beef systems management, equine lameness, and podiatry and equine dentistry. He and his wife Emily love to ride horses, including playing polocrosse and foxhunting. They and their Jack Russel Terrier "Cici" are happy to be home again.
Mallan M. Willis, DVM
Dr. Willis graduated from the Virginia-Maryland College of Veterinary Medicine in 2016 and recently completed an equine-intensive internship at Woodside Equine Clinic in Ashland, VA.   She also received her small animal acupuncture certification from Colorado State in 2016.  Her veterinary interests are broad, but she loves the challenges of large animal medicine.  Dr. Willis's professional interest lie in equine sports medicine, equine internal medicine, and large animal emergency medicine.  In her free time, Dr. Wills loves to run, ride her horses, and relax with her fiance Jordan and her golden retriever Zoe.  Dr. Willis hails from Harford County, Maryland and is excited to explore the beauty of Southern Maryland.